TRADITIONAL OBITUARY VERSUS KINDRED CONNECTION TRIBUTE
Kindred Connections has already begun filling this void for families. We welcome survivors who want to transform a loved one's traditional death notice into a written celebration of life. Here are samples of our services.
The following is the original obituary from a funeral home for Warren Allen Gray. Further below is our Kindred Connection tribute for "Buck" to illustrate the difference between a traditional obit and a customized Kindred Connection version.
Warren Allen "Buck" Gray, 79, of Valparaiso passed away on January 6th, 2021.  Warren was born to Walter and Gladys Gray (Friedman) on July 26th, 1941.  Buck was a United States Air Force Veteran and was a car salesman for over 50 years at Buck Gray's Auto Sales.  He enjoyed golfing, bowling, fast and slow pitch softball and hunting.  Buck married the love of his life, Mary Ann Gorincen on February 27th, 1965, who survives him.  Buck is also survived by 2 Children, William Gray of Virginia, and Douglas Gray of Portage.  He is also survived by 2 Sisters, Sharron Andorfer of Ohio, and Jacquelyn Berkey of Goshen, IN.  He is also survived by 3 grandchildren.  He was preceded by his parents Wally and Gladys, sister Janette Stutzman and grandson Walter Andrew Gray. 
Kindred Connection tribute for Buck Gray: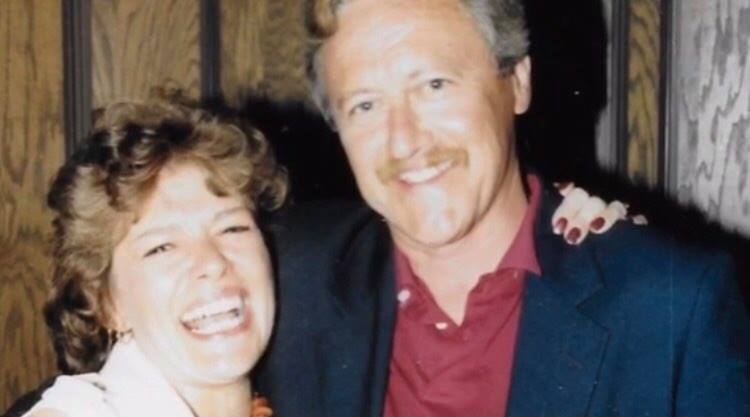 Minutes after his birth on July 26, 1941, Warren Allen Gray was nicknamed "Buck" by nurses in the hospital delivery room. His moniker stuck for 79 years.
Buck and his twin sister, Sharron, were one of two sets of twins, thanks to his parents, Walter and Gladys Gray (Friedman). He was the strong buck of a baby. Sharron was punier. The nurses nicknamed her Punky.
"It's Buck, not Bucky," he reminded people as he grew up. As an adult, Buck had a boisterous laugh that could frighten young children, even his own two sons when they were babies.
"You could hear his laugh from another room," joked his wife of 55 years, Mary Ann (Gorincen) Gray. The couple began their life together at Indiana University in Bloomington. They married on February 27, 1965.
Buck was a car salesman for more than 50 years, owning Buck Gray's Auto Sales in Valparaiso. He didn't just sell vehicles. He also sold his affable disposition. "I don't make money, I make friends," he would often say. A sign posted in his office reflected his selling technique: "Good cars aren't cheap and cheap cars aren't good."
"Buck truly liked people. He enjoyed being around them," his wife recalled.
He also enjoyed his service days in the U.S. Air Force, stationed in San Antonio, Texas, at Kelly Air Force Base, where he made many lasting friendships that spanned his entire life. There, he also developed a taste for Mexican food and country music. Buck also enjoyed golfing, bowling, hunting, and fast- and slow-pitch softball.
Buck closed his car dealership in 2007, but he never permanently parked his high-octane personality. He was witty, funny, caring, loving and personable well into his later years. Even his last doctor was impressed by Buck's wit, humor and charm.
"I'm getting better, and I'm gonna keep getting better," Buck told his wife and his doctor.
He did, but it didn't last.
On January 6, 2021, his wife and younger son, Douglas, paid him one final visit at Indiana University Health Hospital in Indianapolis.
"Hi hun, I'm here," his wife told him.
Buck's eyes looked into hers, and then locked onto hers. He did the same with his son. Buck knew they were there with him. Later that day, the U.S. Air Force veteran ascended to heaven. Buck was 79.
"I'm at peace because he's at peace," his wife said afterward.
Without a traditional funeral service, Mary Ann was comforted by an impromptu "wake over the phone" with her husband's loved ones, friends, and old schoolmates. "Let's clink our glasses together in one final toast to ole Buck. It's what he would have wanted!" she told them.
Buck was preceded in death by his parents, his sister Janette Stutzman, and his grandson, Walter Andrew Gray. Buck is survived by two children, William Gray of Virginia, and Douglas Gray of Portage; two sisters, Sharron Andorfer of Ohio, and Jacquelyn Berkey of Goshen, Indiana; and three grandchildren.
Buck leaves behind his beloved bride, who also called him Buck. Unless he was in trouble with her. Then she called him Warren.
Created by Kindred Connections.
KINDRED CONNECTION TRIBUTE SAMPLE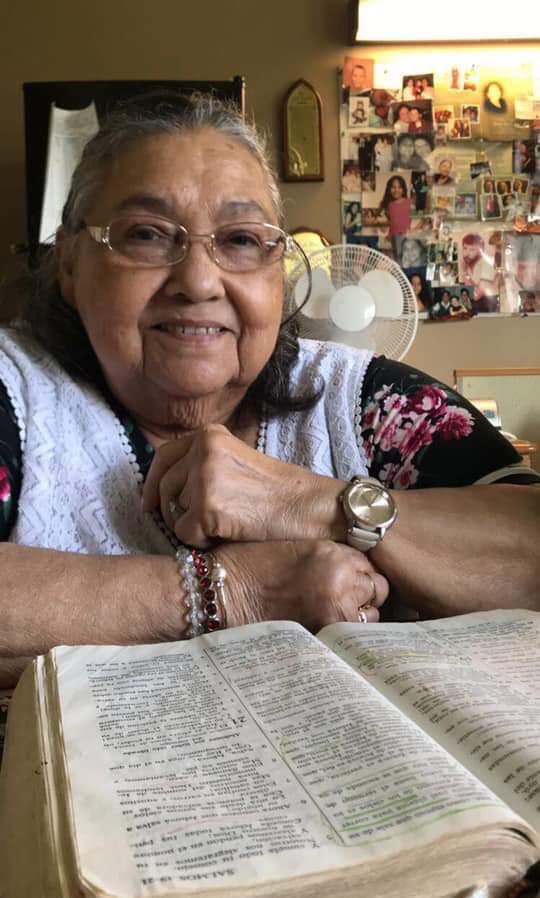 As a young woman, Elba Morales left Puerto Rico with an American dream, three children, and a fourth-grade education. On July 13, 2021, she left this world with Jesus – her favorite teacher – earning a theology degree from Moody Bible Institute in Chicago, where she learned how to properly read, write and worship.
Elba was a chef, a dancer, a seamstress, a flirt, a botanist, and a prophet, with a knack for interpreting dreams and exemplifying unconditional love for her family. She had a green thumb, a red-hot temper, and a heart of gold. Her life's resume' of hard-earned skills and God-given talents earned her little money but vaults of wealth. She deposited gold bullions of love into her family's hearts up to her last days.
"My Abuelita was the richest poor person I ever knew," recalled her grandson, Fernando Lopez, who she raised into his teenage years.
Elba wasn't merely the glue of her family. She was its super glue. Her fingerprints can still be found on everyone's soul. In recent years, she used Facebook Live or any other digital adhesive to keep her family bound together from Portage to Puerto Rico. "I love you!" she told each of them. Elba was her family's cornerstone foundation, tirelessly working to construct younger pillars through her grandchildren, nieces and nephews.
In Puerto Rico, she first learned the blessings and curses of any family, enduring a tragic childhood that taught her harsh life lessons at too young of an age. While picking fields of coffee beans, Elba picked a fresher life for herself, and eventually her children. Elba's decision would someday blossom into a bouquet of beauty in another country.
In the late 1950s, without knowing a stitch of English, she migrated to New York City to work at a shoe factory. She learned seamstress skills that would lace through the rest of her life, enabling her to make clothes for loved ones.

She would later work at another shoe factory in Chicago, where she helped raise an extended family on shoestring budgets. Elba's trusty sewing machine never left her side. Nor did her Bibles, held together with hope, prayers, and promises. As matriarch of her family, it was always faith that anchored her hopes for the future.
Elba studied scripture like an ordained pastor while attending La Iglesia de Dios Pentecostal Church in Lake Station. One of her favorite verses, from 2 Timothy 2:15: "Study and do your best to present yourself to God approved, a workman [tested by trial] who has no reason to be ashamed, accurately handling and skillfully teaching the word of truth."
Elba not only preached the gospel, she used it to heal her fractured family. She made it a point to make amends for past sins and perceived flaws. She did this through endless gestures of patience and forgiveness.
In her later years she suffered multiple health ailments, earning her the nickname "Comeback Kid" when she bounced back from kidney failure many years ago. In 2014, she moved into Golden Living Center in Portage, where she was known to barter kind words for slices of toast from the kitchen, but always for friends.
It was there she would religiously rise early on Sunday mornings to be ready for precious visits from loved ones. It was also there, during her last months, she purposely shared her decades of gained wisdom. When her grandson Fernando once visited her, he confided his conflicted prays for her fate.
"I don't know how to pray for you," he told her. "I want you to stay with us forever, but not if you're in so much pain."
She calmly replied, "Son, if it's God's will that I get up from this bed, I will be OK with it. If not, then I'm OK with it. Either way, I'll be OK." Again, Elba's devout faith never left her, up to her last prayer and her final heartbeat.
Elba (Abuelita) Morales was 80 years old.
She was preceded in death by her daughter, Luz (Nellie) Lopez, who lived with her for more than 40 years and shared a special journey together in her final years.
Elba's going-home service, under direction of Powell-Coleman Funeral Home, will take place Saturday, July 17, at Latin Pentecostal Church, 3950 Marquette Road, Lake Station, Indiana, 46405. Private family viewing is scheduled from 9 a.m. to 10 a.m., a celebration service from 10 a.m. to 11 a.m., and public viewing from 11 a.m. to 1 p.m. Memorial contributions and flowers can be directed to the church.
Guests are invited to wear bright colors – it's what Elba's wanted – to honor all the bright colors she brought to so many lives.
Created by Kindred Connections LLC
KINDRED CONNECTION TRIBUTE SAMPLE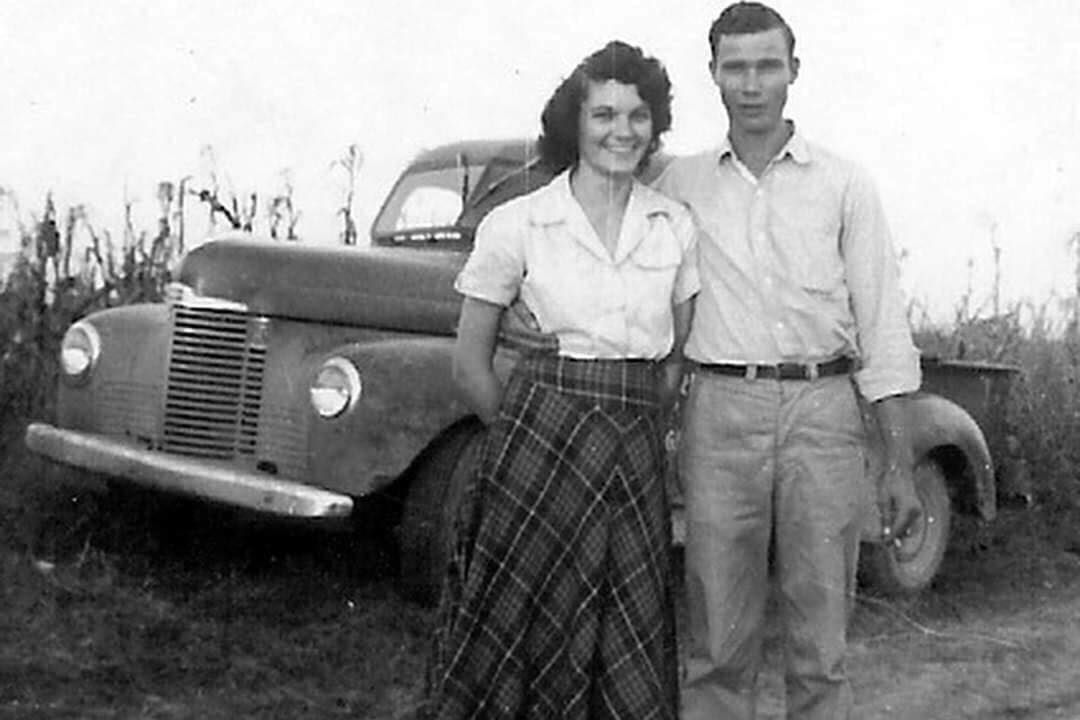 His name was Samuel Archie Nye. His loved ones called him "Peepa." His Lord called him to heaven on Nov. 10, 2019.
Sam was a prankster. He made others laugh, sometimes without even trying. When asked, "How do you feel?" his reply was the same: "I feel more like I do right now than I did a while ago." Such country wisdom reflected his parents, Willard Henry Nye and Myrtle Elizabeth Rodgers Nye, and his birthplace, Blackton, Arkansas, a tiny dot on a map. 
Once upon a time, Sam started writing a book about his struggles as a dirt poor boy raised in the Deep South. He also began a book about his courtship and marriage to Lillie Mae Leonard Nye After 70 years together, the love of his life passed on Aug. 9, 2016. She's been waiting for him since then. 
Also waiting are his brothers, Lloyd Arthur Nye and Buehl Ardell "Buddy" Nye, and his sisters, Alma Irene Nye Fryer and Susie Irilla Nye Edgin. He's once again reunited with them, as well as with his son, Samuel Archie Nye Jr., and his great-grandson, Nathanael James Edward Green.
Sam loved to fish, play games, put together jigsaw puzzles, and build homemade birdhouses. At one point, he had as many as 50 at his home. He sold many of them to bird lovers. He gave away more. He sang tenor in gospel groups. He helped put into play the Dolton Church of God Kings softball team. In his 50s, he became its pitcher. In a family of diehard Cubs fans, he was the lone White Sox fan.
"He was truly one of a kind," recalled his daughter, Valinda Nye Green, at her father's wake at White Funeral Home in Griffith, Indiana.
The service reflected his life, not his death. His light blue fishing hat adorned a photo collage at his favorite fishing holes. His pinstriped "Peepa" baseball jersey hung next to his open casket. His old cap and badge from the University of Chicago Police rested on a table. After 20 years of dutiful service, Sam retired from the force in 1988. A plaque he received states, "Best wishes for a retirement filled with happiness and good health for years to come."
His entire life was filled with happiness and good health. And memories. Countless memories. Photo albums filled with them were shared at his funeral. Several old photos of Sam and his young bride reminded guests of their love affair – "Together Forever" as one note states. As well as reminders of their Christian faith. "Your testimony of faithfulness is a blessing to all those who are blessed to know you! Thank you for inspiring us!" a note from a pastor states.
Unlike the two books that Sam started, he completed a best-seller life. He knew it before his family could accept it
"Pop is ready. We're not Even if he is 95," Valinda said. "We'll make it. Our faith is key. This is all we know. This is my father's legacy. His legacy of family and faith."
Sam's final days were spent at his daughter's home. His final moments of life weren't pretty. They were beautiful. 
He was surrounded by family. A morphine drip eased his pain. His labored breathing weakened. His body calmed. Sam's granddaughter, Jill Ramirez, held his hand at the end. She gently placed her head on his chest to listen to his final, faint heartbeat. 
His heart would be, literally, the last thing to go. It would be poetic and profound. The same heart that shared so much life, so much love, so much warmth. 
Serenity took over Sam's tired body. His family softly wept Seconds passed by. His time had finally come. Or so everyone thought. 
Suddenly, Sam gasped one last breath. It rippled through his body. It scared his family. They smiled through their grief. They giggled through their pain. They will forever remember that tragic moment with a tender laugh. Just as Peepa would have wanted. He got them again, one last time.  
Samuel Archie Nye, age 95, was a prankster until the end.
Created by Kindred Connections
KINDRED CONNECTION TRIBUTE – JERRY'S BROTHER JOE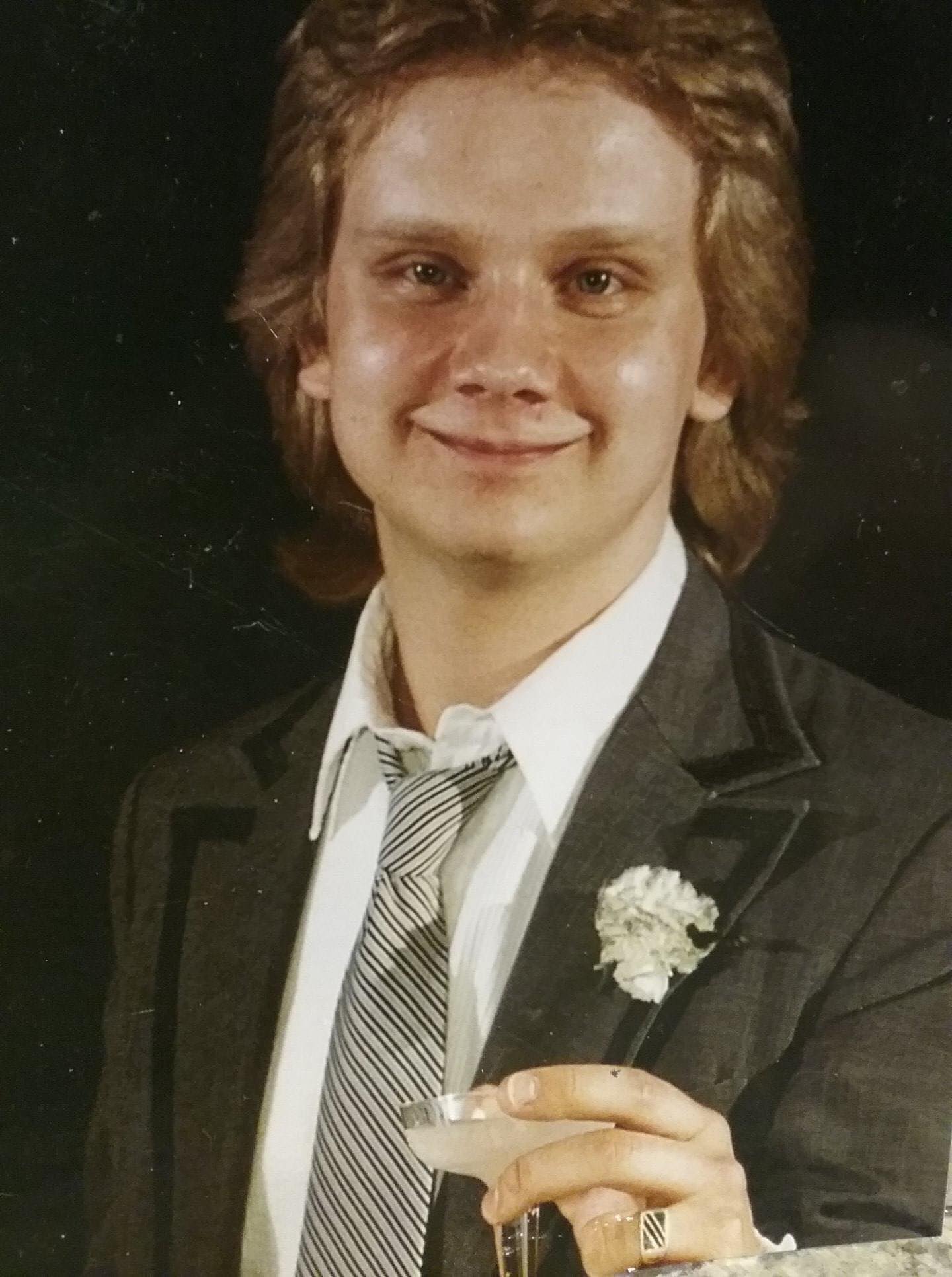 I stared at my brother's face for several seconds, somehow expecting his eyes to open. They never did, of course. A single sheet covered his still body inside the emergency room at Portage Community Hospital, draped by a wide curtain.
There, my mother, my sister, and I were allowed to view my brother's body, say our goodbyes, or stand in shock. My sister viewed his body. My mother said her goodbyes. I stood in shock.
Joe Davich Jr. – my big brother, my only brother – died several minutes earlier of heart failure, and here we were staring at him together one last time. It seemed like seconds. It seemed like hours. It seemed like Father Time respectfully held back his minute hand for us to better grasp the moment.
I've seen a lot in my 46 years, especially as a journalist. Fatal car crash scenes. Dying babies in hospitals. Terminal patients gasping their last breaths. Burn victims with little chance to survive. Too many funerals to count.
But the sight of my 50-year-old brother lying there was both surreal and all-too-real.
Surely this isn't the guy who was strong as an ox through much of his life. Surely this isn't the guy whose body endured several years of pain but continued on. Surely this isn't the guy who was my first mentor, my first role model, and my first critic.
Yet surely it was, and I just stared at him, flashing through our life together.
I recalled him buying me a $2 hockey stick when I was a kid, and then bringing it up to me through our childhood. "Remember that hockey stick," he'd tell me if I got mad at him for anything.
I recalled showing him my first parking ticket and him asking to see it. He promptly ripped it up, saying "Forget about it. It's a stupid ticket," as I furiously chased him around a parking lot.
I recalled stealing his cool clothes, cool eight-track tapes, and cool sports equipment after he left for school in the morning, and then returning them exactly as I found them before he got back.
Other memories flashed through my head: How he enjoyed calling his three nieces "darlin'"; how he yelled at the TV screen when his beloved Bears or Cubs choked; and how we were able to spend a rare night together, in November, to see Bill Cosby at a local casino boat.
I wrote about that night with "my big brother Joe," and he left a note in my mailbox that day saying how much he appreciated me calling him his big brother in print.
I also recalled a book he once gave me, titled "Brothers," with a foreword stating, "It's our hope that in this book… we give our brothers their due."
I guess that's what I'm doing with this Kindred Connection. Giving my brother his due.
Joe didn't want a funeral, a eulogy, or even an obituary. So this Kindred Connection will have to serve as all three, at least in my eyes.
As a writer, I've found that writing about things in life often makes them real for me, somehow validating in print that they've actually happened. Maybe this explains why I felt compelled to write about Joe's death, yet why I've waited more than a month to do it. Maybe this makes it real.
The day of his death I sat at my sister's dining room table holding his wallet and sorting through its contents – his driver's license, his bank card, his coupons – neatly lined up in front of me like gravesites at a cemetery. Morbid huh? I know.
I stared at those cards for some time, possibly in lieu of staring at Joe's body in the ER.
Several weeks earlier, I was at the same ER for another family member's illness. Even though we arrived in the middle of the night, we frustratingly had to wait our turn for the doctor's attention. After a couple hours of waiting, a nurse peeked into our room and explained our bad timing.
"There are a lot of critical care patients here tonight and some of them are circling the drain," he told us matter-of-factly.
"Circling the drain," I thought to myself. What a cold, sterile phrase. I immediately envisioned a puddle of dark red blood swirling around a stainless steel drain.
Yet here I stood on Jan. 21, just after noon, and my brother was circling the drain. Even stranger, I remembered that cold, sterile phrase as I stared at his lifeless body.
I should have said something profound. I should have touched him or hugged him or tucked him in. I should have at least told him goodbye. Instead, I did nothing but stare.
My mother, however, did what I probably should have done.
She told Joe she loved him. She told Joe goodbye. And she kissed his forehead. Twice.
Then we exited the room to begin sorting through our grief, regrets, and memories. As you could probably guess, I'm still sorting.
Created by Kindred Connections.